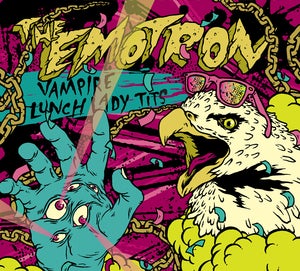 $

4.99
The Emotron may just be the last hope that the punk rock world has left. Some would consider him our generation's G.G. Allin and some would just consider him vulgar trash. Beware: Everything you are about to read is true and may be considered offensive to regular God fearing Sunday church folk.
Unlike tales of Sasquatch or El Chupa Cabre, The Emotron actually lives, and goes by the civilian alias of Jason Kyle Knight. In 2004, Knight quit his long-time punk rock band to embark on a vision quest. With music harkening to the likes of Devo and Atom and His Package, The Emotron became a full-time touring performance art synth-punk act.
Making a living and just living in general wasn't very easy. Along with touring and performing non-stop, The Emotron made ends meet by participating in drug trials, driving for Fed-Ex, and selling videos of himself to gay porn websites.
After four years of touring solo, The Emotron "band married" Philadelphia-based artist, Mose Giganticus (Relapse / Slanty Shanty). The two bands toured for nine months in a vegetable oil powered bus, traveling Florida to Alaska and back with a month long break in the middle spent working at a fish cannery in Snug Harbor.
During this "marriage," The Emotron honed his live show, adding shock value rarely seen within contemporary punk music. If you ask the cool punk kid down the street, he might relay stories of The Emotron lighting his genitals on fire, vomiting profusely or urinating onto himself and others during his live show.
In early 2010, The Emotron completed a lucrative schizophrenia medicine trial, sold everything he owned to record a new album, bought a van from his local church, and hit the road. To fund his current tour, The Emotron dumpster dives for swag to sell out of his van, a rolling second hand store.
The aforementioned album is entitled "Vampire Lunch Lady Tits," and is due to drop August 10th , 2010 on Los Angeles-based electro label Slanty Shanty Records (Math the Band, ANAVAN, Poingly.) Moving away from the shock value that has popularized The Emotron, Knight is now embracing a sound owing more to Gary Neuman and Depeche Mode, while still mixing in his vulgar (yet innocent) lyrics comparable to those of Weezer's Rivers Cuomo following his third tour of Iraq.
Running Time: 44 Minutes