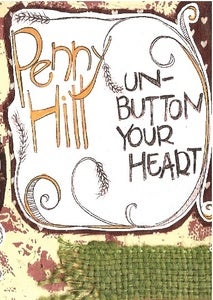 $

4.99
Penny Hill is an alter ego of Norman, Oklahoma's Hilary Pitchlynn, but shhh... don't tell anyone. Hesitant to ever step on a stage, Penny wrote songs late at night in her bedroom long before ever letting anyone in. Her poetic lyrics, wandering melodies, and penetrating vocals create songs that are somehow larger than their component parts. A self-taught guitarist, Penny Hill is not interested or motivated by theory, she prefers to just let the instrument speak.
Life experience and emotional honesty is the cornerstone of Penny Hill's sincere songwriting. Either solo or with a backing band, Penny's songs have the power to speak to the hearts of her audience and draw them into her world of passion and mysticism. Beneath the surface of her sounds are hints of another world, full of beautiful and melancholy mysteries. To witness her perform is more like visiting an oracle than going out to a show.
After years of crafting her songs in secret she quickly caught the attention of some of Norman, Oklahoma's best musicians when she began to play out in 2007. Having her pick of local talent gives Penny enormous versatility on the stage and in the studio. "Unbutton Your Heart" was recorded in late 2009 and early 2010 in Dirtybird Studios outside of Norman, Oklahoma. Working with Penny's ultimate vision in mind, Travis Linville and Ryan Jones worked with her in order to transcribe the painting on the palate of her heart into music she eagerly wishes to share with you now.
40 Minutes Running Time