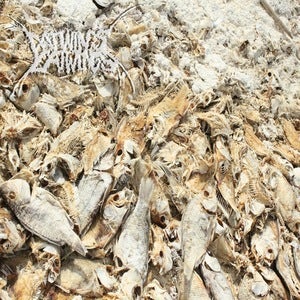 $

3.99
Amidst the blood, cocaine, and botox soaked tapestry of Los Angeles, the members of the band Batwings Catwings hail from all over the US and converge upon the wasteland of Southern California to give underground dwellers a reason to shake and sweat.
Comprised of members from some of LA's most distinctive DIY bands (TPF!, Puppy Dog, Luna Is Honey), Batwings Catwings is cutting a path for themselves straight through the high dollar hustle of Hollywood to the art galleries and punk houses that are known by only the most discerning ears.
Batwings Catwings is fronted by the tiny, yet fierce dance commander Dana Poblete, an everygirl with the ability to entrance audiences from LA to the hellmouths of Mexico's border towns with her frenetic energy and deceptively powerful howl.
Backing her is guitarist and UCLA professor Pepper Glass, a master of the squelch who wields his axe with the devastating accuracy of his feared red correction pen.
On the drums is LA blogger Clay Johnson, who cut his teeth drumming for about every metal band on the northern Midwest's arctic front.
The newest member, Josh Crampton rounds out the lineup on bass, diversifying the sound even further with his sexy funk and shoegaze influences.
January 11, 2011 signifies the release of Batwings Catwings' first EP, "Peacock Collection", released digitally by Indian Gold Records. Recorded at LA's famous Infrasonic Studios by Daniel Haworth and engineered by Pete Lyman (No Age, Best Coast, Abe Vigoda), "Peacock Collection" is a totem of modernist punk - noisy as hell with a tinge of pop and a nod to the punk rock roots of the LA underground.