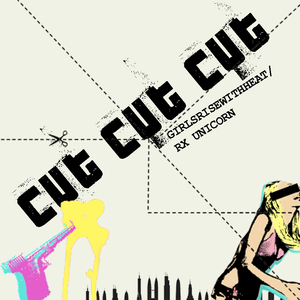 $

3.99
GIRLSRISEWITHHEAT WAS FOUNDED IN 2004, AS THE BRAINCHILD OF DOMINIC MARTIN. IT WAS ALL JUST AN IDEA UNTIL ONE DAY A LOCAL CLUB BOOKED GIRLSRISEWITHHEAT, WHICH BACK THEN CONSISTED OF A CD PLAYER, A GUITAR, SOME PEDALS, AND A CASIO KEYBOARD. THE IDEA EVENTUALLY FLOURISHED INTO SOMETHING MORE AS GIRLSRISEWITHHEAT WAS ASKED TO PLAY MORE AND MORE SHOWS. ALL 500 COPIES OF DOMINIC'S SELF-RECORDED BEDROOM DEMO, "BOYS DON'T FALL IN LOVE" WERE SOLD OUT AT SHOWS AS GIRLSRISEWITHHEAT BECAME A LOCAL FAVORITE.
IN 2006, GIRLSRISEWITHHEAT PERFECTED A LIVE SHOW AND SELF-RELEASED WHAT IS BELIEVED TO BE THEIR FIRST REAL RELEASE, "DANSE KASETTE DANSE KASKETTE," FEATURING SOME OF GIRLSRISEWITHHEAT'S BIGGEST TRACKS LIKE "DOCTORS GOT A THING FOR BLONDES," "ELECTROTRASH," AND "MISS MEDICATED TEEN." IN EARLY 2007, THE LAST OF THE 2500 COPIES PRODUCED BY HAND WERE ALL SOLD OUT FROM ONLY SHOWS AND ONLINE PROMOTION. GIRLSRISEWITHHEAT BECAME A COAST TO COAST PHENOMENON, BEING VOTED BEST ELECTROCLASH OF 2006 BY SEVERAL COLLEGE RADIO STATIONS, AND PIONEERING A NEW GENRE OF FAN-APPOINTED "ELECTROTRASH."
IN 2007, AS GIRLSRISEWITHHEAT GAINED POPULARITY, DOMINIC DECIDED TO TAKE IT TO THE NEXT LEVEL. GIRLSRISEWITHHEAT WENT FULL BAND. DUE TO CONFLICT OF INTEREST, DOMINIC THEN DECIDED TO MAKE GIRLSRISEWITHHEAT A DUO, AND KEPT THE EVER SO TALENTED BASSIST/GUITARIST MADELAIN CANNON. GIRLSRISEWITHHEAT HAS HAD VARIOUS ARTISTS COLLABORATE ON LIVE PERFORMANCES, AND HAS REMAINED A STRONG PRESENCE IN THE DANCE-PUNK GENRE FOR THE PAST FEW YEARS. GIRLSRISEWITHHEAT IS CURRENTLY A PART OF THE SLANTY SHANTY RECORDS COMMUNITY AND IS NOT ACCEPTING OFFERS!
GIRLSRISEWITHHEAT HAS PLAYED WITH GREAT ACTS SUCH AS EX-MODELS, CHROMATICS, THE VIBRATORS, SCREAM CLUB, THE UNDOING OF DAVID WRIGHT, MOSE GIGANTICUS, ABIKU, POINGLY, FLAMETRICK SUBS, HYPERBUBBLE, AND A VAGUE SOUND.
RXUNICORN KICKS ASS TOO!!!!!
www.myspace.com/girlsrisewithheat
www.myspace.com/rxunicorn
15 minute running time