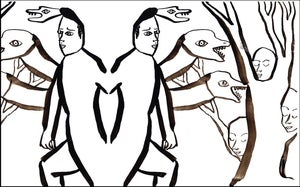 $

4.99
Arrington de Dionyso uses performance as a vehicle for driving through the nameless territories held between surrealist automatism, shamanic seance, and the folk imagery of rock and roll. Arrington performs on the bass clarinet, jaw harps, and his voice with a distinctly multiphonic ability inspired by Tuvan throatsinging and the ecclesiastics of Albert Ayler and Don Van Vliet. Pushing the envelope between musicality and pure energy, between shamanic ecstacy and lunacy, he enwraps rooms with resonant sound. He tours constantly, and has performed or/and recorded with notable improvisers throughout the U.S.A., Canada, Italy, France, Israel and Japan.
Running time: 60 min!
LIMITED RUN OF 100!!!!!!